Florida Residential Customer Wine Cellars
The ultimate indulgence for the serious wine collector!
A wine cellar in your home can be designed for either function, fashion or both, in either regard it is the ultimate luxury addition for any wine collector's home. Whether you building a new home and you have a designated area for your wine room, or you want to convert an existing space in your current home, Wine Cellar International can offer its extensive expertise in the construction of Custom Wine Cellars to assist you with your project.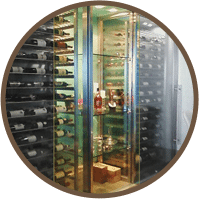 Residential Custom Wine Cellars – Design
Our team of designers will work with you to assess your particular wine bottle storage needs. We will discuss your bottle count goals, needs for bulk storage versus individual storage, specific bottle sizes and your need to accommodate them.
Once your particular bottle needs are discussed, then we can move into the area of design elements, do you prefer a more traditional look with wooden racks or perhaps you are looking for something more contemporary with metal racking and glass elements.
View Custom Wine Cellar Gallery

Visualizing your Wine Room Design
We will provide you with a 3-D isometric computer aided design visual for you to look at and really get an all-around view of what your space will look like. In addition we will have our mechanical engineer run a load calculation to determine your specific refrigeration requirements.
View Custom Wine Cellar Gallery

Wine Cellar Construction
Our team can go through the construction process to ensure a properly prepared room is created. From design elements such as wine display lighting and wine rack styling through to construction best methods such as wine cellar refrigeration flooring and insulation, whatever your needs are, we can assist you to make it feasible, create a practical plan and work to bring your vision to fruition.
Wine Cellar International is a full service company that can provide all aspects of your wine room needs, from start to finish, whether it is with our team, with your contractor or just as a project consultant, we are there to assist. Click here for a free no obligation wine cellar design consultation today!
View Custom Wine Cellar Gallery